You might know that for many years now, I have been working in the creative industries. I have performed and produced in shows and have been producing comic books since the Nineties. These have taken the form of hobbies i engaged in mainly for my own artistic expression. After all, I had a day job.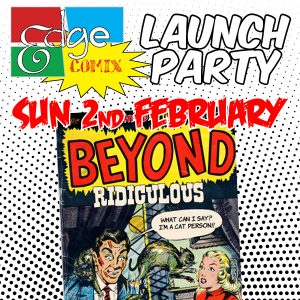 However at the end of 2018 I lost my job as graphic designer I had held for over 8 years, and it has been a long year for me since then.
Besides whatever personal problems I have had to deal with over the past 14 months (and there have been a few), my inability to get more regular work has been the hardest thing to deal with.
But this has led me to an opportunity . Some of you may know that I have recently been enrolled in the NEIS program. It's an opportunity for me to start my own business with some government support. And that leads me to the point of this missive.
 I love comics – making, reading or just discussing them. And I have been making them (mostly due to the support of some very generous and talented friends) for over 25 years. And now I am getting to try and live my dream of doing comics for a living. 
It may not work. Hell, much more talented people than myself have tried and failed. But I'm going to bet on myself and give it a go.
The reason I mention this is that this Sunday I will be officially launching Edge Comix as a business. It'll be a fun time and a chance to show support of my "new" enterprise.
There'll be fun activities including dramatic readings and a charity auction for victims of the recent bushfires.
Whether you like my comics, have never seen them, know them but don't like them, or are completely ambivalent – I'd love to see you there.
My journey is just starting – I know I have a lot to do, and a long way to go personally, professionally and artistically. I'd love to start that journey with your support.
Thank you.